DAINESE bőrdzseki - MERAK LEATHER JACKET TOBACCO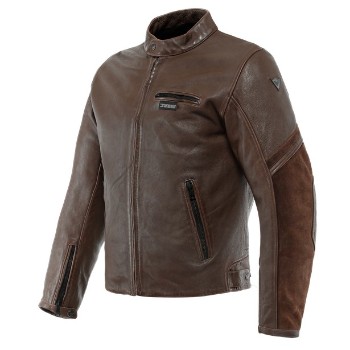 nagyítás

201533881
58G TOBACCO
Méret,
készlet:
Méret/szín: 50
Szállítás: 1-2 munkanap
Méret/szín: 52
Szállítás: 1-2 munkanap
Méret/szín: 54
Szállítás: 1-2 munkanap
A készletjelzőknél válaszd ki a megfelelő méretet!
Motorcycle jacket in drum-dyed leather with suede inserts, soft Pro-Shape 2.0 protectors and removable thermal liner.
The Dainese Merak drum-dyed cowhide motorcycle jacket, with suede inserts on the back and sleeves, is the perfect synthesis between urban-inspired aesthetics and the safety of Pro-Shape 2.0 protectors, which are soft, removable and offer EN 1621.1 certification.

Equipped with a removable thermal liner making it suitable in mild as well as colder temperatures, this men's motorcycle jacket is enriched with details such as adjustable buttons at the waist and collar to better control the fit, two internal pockets and a back pocket for the G1 or G2 back protectors.

A termékkel kapcsolatos érdeklődés küldéséhez jelentkezz be vagy regisztrálj az oldalunkon!