DAINESE bőrdzseki - NIKITA 2 LADY LEATHER JACKET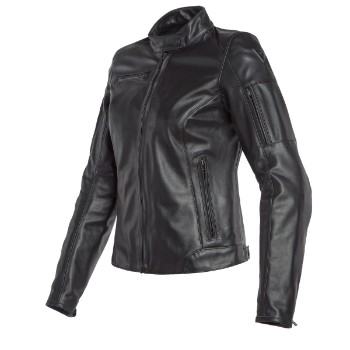 nagyítás

202533814
Méret,
készlet:
Méret/szín: 40
Szállítás: 1-2 munkanap
Méret/szín: 42
Szállítás: 1-2 munkanap
Méret/szín: 48
Szállítás: 1-2 munkanap
A készletjelzőknél válaszd ki a megfelelő színt és méretet!
WEBES RENDELÉS ESETÉN ELŐZETES TELEFONOS EGYEZTETÉS SZÜKSÉGES!
Refined femininity, sports passion and character distinguish this iconical Dainese jacket, now in a new cowhide leather, even softer
and classy. Elasticated inserts on the back, adjustment possibilities at the side, and the jacket-pants fastening zip ensure perfect
ergonomics. The 3D Bubble liner, air intakes on the sleeves and localised perforation offer the optimum microclimate to the advantage
of excellent comfort. Composite protectors, a back protector pocket, reflective inserts complete the safety features of the certified
garment.
GENERAL FEATURES
1 inner pocket
3 outer pockets
Jacket certified to CE - Cat. II -
prEN 17092
Pocket for G1 back protector
Reflective inserts
ERGONOMICS
Hips adjustment
Inserts in elasticated fabric
Jacket-pants fastening system
Neck adjustment
Wrists adjustment
MAIN MATERIALS
Artemide leather: refined full-grain
cowhide leather
PERFORMANCE SHOCK
Removable composite protectors
certified to EN 1621.1 Standard
TEMPERATURE
Air vents on sleeves
Fixed 3D-Bubble liner air spaces
TF: TechFrame internal liner

A termékkel kapcsolatos érdeklődés küldéséhez jelentkezz be vagy regisztrálj az oldalunkon!