DAINESE bőrdzseki - RACING 4 LADY LEATHER JACKET PERF.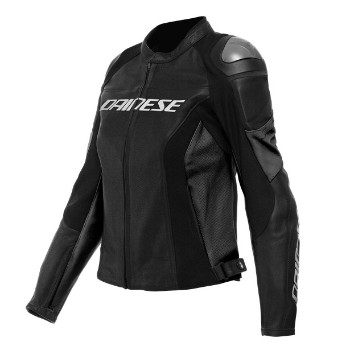 nagyítás

202533849
BLACK/BLACK
Méret,
készlet:
Méret/szín: 44
Szállítás: 1-2 munkanap
Méret/szín: 46
Szállítás: 1-2 munkanap
A készletjelzőknél válaszd ki a megfelelő méretet!
Women's perforated leather motorcycle jacket with metal slider on the shoulders, stretch leather inserts and air vents for optimized temperature. The Dainese sport jacket.
The Racing 4 Lady is a women's leather motorcycle jacket designed for the female body to offer extreme comfort and versatility through a series of details, which includes inserts in S1 bi-elastic fabric and Microelastic 2.0 leather applied on a solid structure made of premium Tutu cowhide that is perforated to ensure better ventilation on hot days. The perforation works in synergy with the breathable lining.
Additional features include an adjustable waist and collar, and the option to connect the jacket to motorcycle pants using the zipper fastening at the hem.

Maximum safety is guaranteed by EN 1621.1-certified composite protectors at the elbows and shoulders, which are further enhanced by interchangeable external aluminum plates – a distinctive Dainese technology – designed to support and facilitate sliding in case of a fall, thus avoiding the dangerous risks of rolling on asphalt. Back protectors can be added to the Racing 4 Lady Perf. using the special pockets.
The Racing 4 Lady women's motorcycle jacket is also equipped with two external and two internal pockets to store small items safely.

A termékkel kapcsolatos érdeklődés küldéséhez jelentkezz be vagy regisztrálj az oldalunkon!