DAINESE bőrdzseki - SPORT PRO LEATHER JACKET PERF.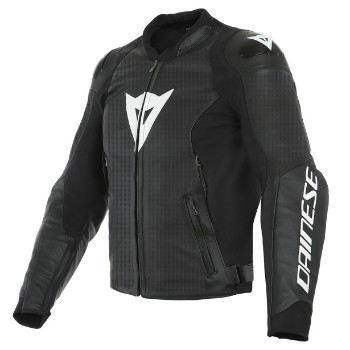 nagyítás

201533868
BLACK/WHITE
Méret,
készlet:
Méret/szín: 48
Szállítás: 1-2 munkanap
Méret/szín: 50
Szállítás: 1-2 munkanap
Méret/szín: 52
Szállítás: 1-2 munkanap
Méret/szín: 54
Szállítás: 1-2 munkanap
Méret/szín: 56
Szállítás: 6-10 munkanap
Méret/szín: 58
Szállítás: 1-2 munkanap
A készletjelzőknél válaszd ki a megfelelő méretet!
WEBES RENDELÉS ESETÉN ELŐZETES TELEFONOS EGYEZTETÉS SZÜKSÉGES!
Sports jacket in perforated cowhide. Offering an athletic fit, it features interchangeable aluminum plates on the shoulders, Pro Armor protectors at the shoulders, and composite protectors at the elbows.
Sport Pro is the Dainese premium cowhide jacket with a sports fit. With a slim fit, it is designed for those seeking an athletic-cut garment that is able to trace the movements and curves of the rider's body. Its specific fit at the chest, shoulders and neck makes for a garment that offers unique ergonomics, comfort and lightness. Protection comes in the shape of Pro Armor inserts at the shoulders that guarantee both flexibility and lightness. Pro Armor works in synergy with the interchangeable aluminum shoulder plates, a hallmark of Dainese sports products, which offer the best protection against impact and support any sliding along the asphalt in the event of a fall. Unlike plastic materials, metal offers excellent abrasion resistance, does not degrade during a slide and does not trigger any dangerous rolling or twisting of the joint. Certified composite inserts protect the elbows. The safety equipment is completed with pockets to accommodate a model G back protector and chest protectors. Localized perforation of the leather panels ensures comfort on the hottest of days. Perforation is positioned only in strategic areas, away from the seams and areas most exposed to abrasion.

A termékkel kapcsolatos érdeklődés küldéséhez jelentkezz be vagy regisztrálj az oldalunkon!