DAINESE bőrdzseki - SPORTIVA LEATHER JACKET BLACK-MATT/LAVA-RED/WHITE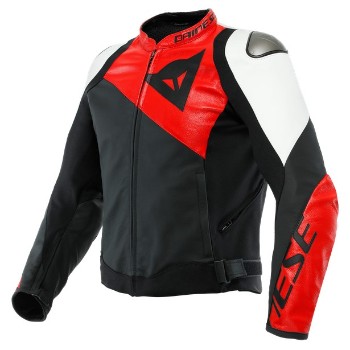 nagyítás

201533872
25A BLACK-MATT/LAVA-RED/WHITE
Méret,
készlet:
Méret/szín: 54
Szállítás: 1-2 munkanap
Méret/szín: 56
Szállítás: 1-2 munkanap
Méret/szín: 58
Szállítás: 1-2 munkanap
A készletjelzőknél válaszd ki a megfelelő méretet!
Certified perforated leather motorcycle jacket with optimized temperature, soft Pro-Armor protectors and aluminum plates on the shoulders
The Dainese Sportiva Perf motorcycle jacket is made of soft and resistant Tutu cowhide that is perforated to ensure optimized temperature even on hot days.

The EN 1621.1-certified Pro-Armor internal protectors guarantee maximum protection, lightness and freedom of movement and are ventilated over 40% of their surface area. The internal shoulder protectors are paired with interchangeable aluminum plates on the outside: A distinctive Dainese technology that is designed to facilitate sliding in the event of a fall and avoid dangerous rolling on asphalt.

For further flexibility and riding comfort, the leather structure has S1 bi-elastic fabric inserts on the hips and inner arms, and Microelastic technology on the back to increase freedom of movement.

The Dainese Perf. Sports Jacket is equipped with a rear pocket to insert a back protector, Velcro at the hips to adjust the fit, and breathable Nanofeel® lining.
GENERAL TECHNICAL FEATURES

A termékkel kapcsolatos érdeklődés küldéséhez jelentkezz be vagy regisztrálj az oldalunkon!