DAINESE bőroverál, 1 részes - LAGUNA SECA 4 1PC PERF. LEATHER SUIT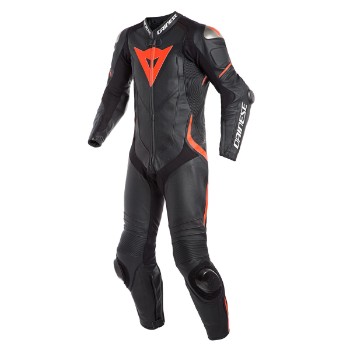 nagyítás
201513457
BLACK/BLACK/FLUO-RED
Méret,
készlet:
Méret/szín: 50
Szállítás: 1-2 munkanap
Méret/szín: 54
Szállítás: 1-2 munkanap
A készletjelzőknél válaszd ki a megfelelő méretet!
CSAK SZEMÉLYES ÁTVÉTELLEL VÁSÁROLHATÓ!
A technological upgrade of a racing icon that's equally at home on the road, with dedicated versions for men and women. Tough
Tutu cowhide with perforated cooling zones (perforated versions only). An Aerodynamic hump with integrated hydration bladder.
Microelastic 2.0 and Triaxial Technology for fast-reacting flexibility and comfort. Latest generation protection from MotoGP with
Aluminum seamless shoulders and RSS 2.0 elbow sliders. Plus of course Level 2 protection throughout. MotoGP-evolved for life in
the fast lane.
GENERAL FEATURES
1 inner pocket
Interchangeable elbow sliders
Interchangeable knee sliders
Pocket for water bag kit code
1996256
Protection & Cleaning Kit
Replaceable Slider System 2.0:
quickly releasable elbow slider
Suit bag provided
ERGONOMICS
Aerodynamic spoiler
Collar with elasticated insert
Elasticated inserts
Inserts in elasticated fabric
Integrated suit to boots fastening
system
Lycra inserts on inner lining
enhance movements
Microelastic 2.0
Tri-axial elasticated insert on the
back
MAIN MATERIALS
Aluminium
S1 bielastic fabric
Titanium
Tutu cowhide leather
PERFORMANCE SHOCK
Composite protectors certified
to EN 1621.1 Level 2 standard on
elbows
Composite protectors certified to
EN 1621.1 Level 2 standard on knees
Pro-Shape: soft protectors
certified to Standard EN 1621.1 on
hips
Seamless aluminium plates on
shoulders
Seamless titanium plates on
elbows
Soft protectors certified to
EN 1621.1 standard Level 2 on
shoulders
Suit certified to CE - Cat. II -
89/686/EEC Directive
TEMPERATURE
3D-Bubble fabric inserts
Localized perforation
NanoFeel® removable liner

A termékkel kapcsolatos érdeklődés küldéséhez jelentkezz be vagy regisztrálj az oldalunkon!