DAINESE bőroverál, 2 részes - AVRO 4 LEATHER 2PCS SUIT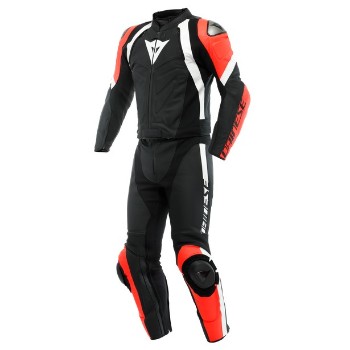 nagyítás

201513479
54G BLACK-MATT/FLUORED/ WHITE
Méret/szín: 52
Szállítás: 1-2 munkanap
DAINESE bőroverál, 2 részes
AVRO 4 LEATHER 2PCS SUIT, 54G BLACK-MATT/FLUORED/ WHITE 52
Two-piece motorcycle suit in Tutu cowhide, with aluminum slider on the shoulders, aerodynamic hump, and stretch inserts for maximum freedom of movement. A Dainese icon.
Dainese Avro 4 two-piece motorcycle suit made with premium Tutu cowhide, consisting of a motorcycle jacket and pants joined by a comfortable and resistant zipper that runs around the waist. Optimized for road riding, suitable for any type of route.

Maximum protection is guaranteed by composite protectors at the knees, elbows and shoulders and soft Pro-Shape 2.0 protectors at the hips. It can be enhanced further due to the internal pockets where chest protectors can be inserted. The Avro 4 is equipped with removable and replaceable sliders at the knees and interchangeable aluminum plates at the shoulders: a distinctive Dainese technology designed to support and facilitate sliding in case of a fall, thus preventing the dangerous risks of rolling caused by grip on asphalt. The hump placed at the shoulders and neck has an aerodynamic function.

For added comfort while riding, the Avro 4 two-piece suit is equipped with wide S1 stretch fabric inserts at the inner arm, groin and back of the leg areas, Microelastic 2.0 leather inserts on the back and arms that increase freedom of movement while maintaining skin protection, and air vents on the chest that can be opened and adjusted using the zippers.

The aerodynamics and stability of boots can be maximized due to the patented construction featuring a double zipper at the cuff, which widens at the bottom, letting you secure the boot in the "IN" position using the internal Velcro strap.
GENERAL TECHNICAL FEATURES

A termékkel kapcsolatos érdeklődés küldéséhez jelentkezz be vagy regisztrálj az oldalunkon!