DAINESE bőroverál, 2 részes - LAGUNA SECA 4 2PCS SUIT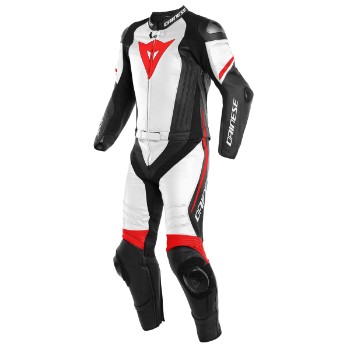 nagyítás

201513461
BLACK-MATT/WHITE/FLUO-RED
Méret/szín: 54
Szállítás: 1-2 munkanap
DAINESE bőroverál, 2 részes
LAGUNA SECA 4 2PCS SUIT, BLACK-MATT/WHITE/FLUO-RED 54
CSAK SZEMÉLYES ÁTVÉTELLEL VÁSÁROLHATÓ!
The Laguna Seca sets the benchmark for leather suits since 2009. Its 4th generation provides, also in the 2 pieces version, superior
design and technological solutions. Increased aerodynamic hump, wider and replaceable aluminium protective surfaces on the
shoulders, interchangeable knee sliders and, for the first time in a divisible suit, the new elbow construction with quick releaseable
slider and aluminium plate. Dainese safety excellence is guaranteed by the innovative D-Skin 2.0 leather and level 2 protectors.
The latest racing technology for an everyday road experience.

GENERAL FEATURES
1 inner pocket
Interchangable knee sliders
Interchangeable elbow sliders
Protection & Cleaning Kit
Reflective inserts
Replaceable Slider System 2.0:
quickly releasable elbow slider
Seamless thermoformed soft
inserts
Suit bag provided
ERGONOMICS
Aerodynamic spoiler
Collar with elasticated insert
Elasticated inserts
Inserts in elasticated fabric
Integrated suit to boots fastening
system
Lengthened back
Microelastic 2.0
MAIN MATERIALS
Aluminium
D-skin 2.0 full grain cowhide
leather
S1 bielastic fabric
PERFORMANCE SHOCK
Composite protectors certified
to EN 1621.1 Level 2 standard on
elbows
Composite protectors certified to
EN 1621.1 Level 2 standard on knees
Composite protectors certified
to EN 1621.1 Level 2 standard on
shoulders
Replaceable aluminum plate on
shoulder (1876165 kit shoulder
sport aluminum)
Seamless aluminium plates on
elbows
Soft protectors certified to EN
1621.1 standard Level 2 on hips
Suit certified to CE - Cat. II -
89/686/EEC Directive
Thermoformed base shoulders
TEMPERATURE
3D-Bubble fabric inserts
Air vents on sides
Nanofeel® liner with Silver ion
treatment
COLOR VERSIONS
07A
black/fire-blue/
fluo-yellow
20A
black/charcoal-gray/
fluo-yellow

A termékkel kapcsolatos érdeklődés küldéséhez jelentkezz be vagy regisztrálj az oldalunkon!