DAINESE bőroverál, 2 részes, női - MIRAGE LADY LEATHER 2PCS SUITBLACK/LAVA-RED/WHITE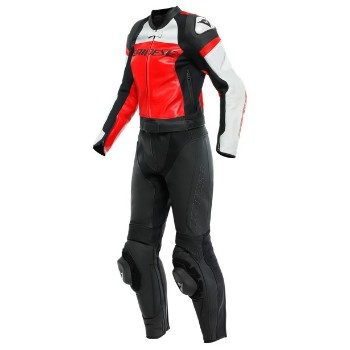 nagyítás

202513472
A77 BLACK/LAVA-RED/WHITE
Méret,
készlet:
Méret/szín: 42
Szállítás: 1-2 munkanap
Méret/szín: 44
Szállítás: 1-2 munkanap
Méret/szín: 46
Szállítás: 1-2 munkanap
A készletjelzőknél válaszd ki a megfelelő méretet!
Women's two-piece motorcycle suit in cowhide with certified protectors, aerodynamic hump, and elastic fabric inserts.
Women's Dainese Mirage two-piece motorcycle suit made with premium Tutu cowhide and ergonomically designed to best suit a woman's body. Suitable for sport use, it is specifically optimized for road riding.

Maximum protection is guaranteed by composite protectors at the knees, elbows and shoulders and soft Pro-Shape 2.0 protectors at the hips. It can be enhanced further due to the internal pockets where chest protectors can be inserted. The Mirage is equipped with removable and replaceable sliders at the knees and interchangeable aluminum plates at the shoulders: A distinctive Dainese technology designed to support and facilitate sliding in case of a fall, thus preventing the dangerous risks of rolling caused by grip on asphalt. The hump placed at the shoulders and neck has an aerodynamic function.

For greater comfort while riding, the Mirage two-piece suit is equipped with wide S1 stretch fabric inserts on the inner arm, groin and back of the leg areas, as well as an inner breathable liner.

A termékkel kapcsolatos érdeklődés küldéséhez jelentkezz be vagy regisztrálj az oldalunkon!