DAINESE csizma - AXIAL D1 AIR BOOTS BLACK/BLACK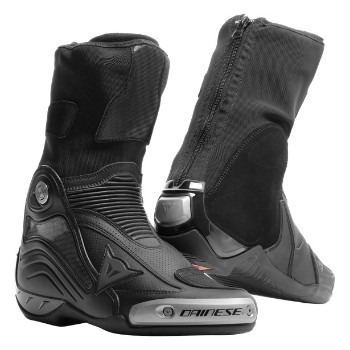 nagyítás

201795223
BLACK/BLACK
Méret,
készlet:
Méret/szín: 40
Szállítás: 1-2 munkanap
Méret/szín: 41
Szállítás: 6-10 munkanap
Méret/szín: 42
Szállítás: 1-2 munkanap
Méret/szín: 43
Szállítás: 1-2 munkanap
Méret/szín: 44
Szállítás: 1-2 munkanap
Méret/szín: 45
Szállítás: 1-2 munkanap
A készletjelzőknél válaszd ki a megfelelő méretet!
WEBES RENDELÉS ESETÉN ELŐZETES TELEFONOS EGYEZTETÉS SZÜKSÉGES!
Axial D1 AIR Boots are the latest evolution of the ultimate Dainese's track boot, used by our top athletes on the most legendary
international race circuits. A new performance benchmark that rises up again the technological innovation and protection level in
the motorbike racing world. The new velcro construction improve the suit-to-boot fastening system, the shiftguard is redesigned
for better ergonomics on the forefoot, while the magnesium slider lightens a product that once again redefines the standards.
The new aggressive design and colorways match perfectly Dainese's track suits, giving racers superior and distinctive outfits for their
track days. The Air version adds maximized ventilation for ideal comfort and confidence also in warmer days.
GENERAL FEATURES
Gear shifter guard
Rubber sole with differentiated
design
Setscrew wrench supplied
ERGONOMICS
Closing with zipper at the back
Elasticated inserts
Speed lacing system
Suit to boot fastening system
MAIN MATERIALS
D-Stone™ fabric
Split cowhide leather inserts
Upper in microfiber
PERFORMANCE SHOCK
Certified boots to CE - Cat. II - EN
13634 Standard
D-Axial system in carbon and
aramid fiber
Metal inserts
Nylon heel
Reinforced nylon toe
Replaceable magnesium slider
(1999885 Kit Boots Slider Stainless
Steel, 1996252 Kit Boot Slder
Plastic 08; 1999954 Kit boot slider
plastic 16)
TPU rear inner insert
TEMPERATURE
Double jersey airgap liner
Perforated upper

A termékkel kapcsolatos érdeklődés küldéséhez jelentkezz be vagy regisztrálj az oldalunkon!