DAINESE csizma - AXIAL GORE-TEX® BOOTS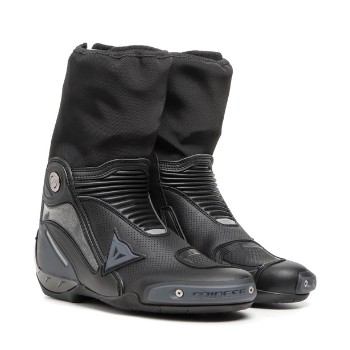 nagyítás

201795231
001 BLACK
Méret,
készlet:
Méret/szín: 40
Szállítás: 6-10 munkanap
Méret/szín: 41
Szállítás: 1-2 munkanap
Méret/szín: 42
Szállítás: 1-2 munkanap
Méret/szín: 43
Szállítás: 1-2 munkanap
A készletjelzőknél válaszd ki a megfelelő méretet!
A waterproof boot for sports touring use. Complete with integrated Axial Distortion Control System technology for maximum foot and ankle protection. Featuring the IN construction, to be worn under the suit or pants.
Axial GORE-TEX® is the top-of-the-range boot for the ultimate sports touring experience, combining the features of the boot used in MotoGP™ with a GORE-TEX® upper that allows the rider to take on the road whatever the weather conditions.

At the heart of the boot is the Axial Distortion Control System, a technology that guides the ankle in all its movements, minimizing any kind of injury. The internal structure is made with a composition of carbon and aramid fiber, to offer the foot an extremely resistant but very lightweight shield. Containing the weight in the foot area, and at the extremities in general, is important because in case of a high side, less weight develops less centrifugal force and therefore less speed, which means the impact against the ground is significantly less violent.

The Axial GORE-TEX® is designed to be worn inside the pants or suit, for a more streamlined and aerodynamic result. The GORE-TEX® membrane offers excellent waterproofing and insulation against bad weather, while maintaining optimal breathability for great comfort in every situation.

A termékkel kapcsolatos érdeklődés küldéséhez jelentkezz be vagy regisztrálj az oldalunkon!