DAINESE csizma - NEXUS 2 BOOTS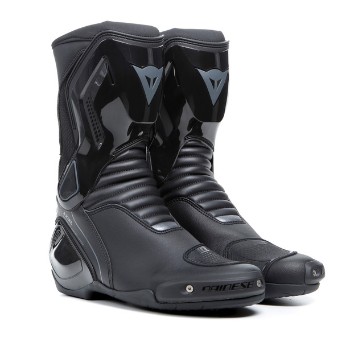 nagyítás

201795229
001 BLACK
Méret/szín: 47
Szállítás: 1-2 munkanap
DAINESE csizma
NEXUS 2 BOOTS, 001 BLACK 47
Sport motorcycle boots with Axial Distortion Control System for ankle protection and replaceable thermoplastic sliders.
The Dainese Nexus 2 sport motorcycle boots are made of microfiber and D-Stone, with a nylon insert at the heel.

They are equipped with replaceable thermoplastic sliders, the exclusive Dainese Axial Distortion Control System, and nylon inserts on the heel to guarantee high levels of protection, maximum comfort, and lightness.
AXIAL DISTORSION CONTROL SYSTEM

​

The Axial Distortion Control System for feet works thanks to an articulated structure integrated into the boot that serves a triple purpose: it protects against sprains, it reduces intensity of impact by distributing it over the structure's entire surface, and it stops objects from entering the shoe.
D-STONE™

​

D-Stone™ is an extremely tough material mainly used for Dainese boots and textile clothing. D-Stone is made of high density twisted nylon with elasticated inserts faced with nylon. This creates an armored weave effect that offers exceptional comfort characterized by high resistance to abrasion, damage, and tear, with a performance comparable to leather.

The S1 version S1 (without resin coating) features Protector treatment. The S1P1 version, in addition to Protector treatment, also features a breathable, windproof polyurethane resin coating. Protector treatment grants the fabric excellent water- and oil-repellent properties. The material does not require ironing to re-acquire its properties: air drying it after washing is sufficient. This treatment was developed thanks to the application of nanotechnology to textile finishing.
MICROFIBER

​

Microfiber is a non-woven fabric in polyurethane and polyamide that boasts exceptional resistance to wear, tear, and shear. This particular product is also distinguished by its softness, flexibility, light weight and water-repellent properties.

A termékkel kapcsolatos érdeklődés küldéséhez jelentkezz be vagy regisztrálj az oldalunkon!