DAINESE D-air® airbag dzseki - STELVIO D-AIR® D-DRY® XT JACKET BLACK/EBONY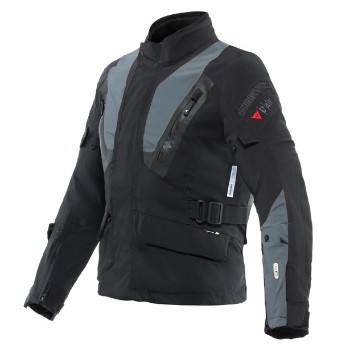 nagyítás

201D20035
U40 BLACK/EBONY
Méret,
készlet:
Méret/szín: 54
Szállítás: 1-2 munkanap
Méret/szín: 56
Szállítás: 1-2 munkanap
Méret/szín: 58
Szállítás: 1-2 munkanap
A készletjelzőknél válaszd ki a megfelelő méretet!
Motorcycle touring jacket with built-in airbag and waterproof and elastic D-Dry® XT membrane. Level 2 Pro-Armor 2.0 protectors on elbows and shoulders, suitable for long distances and all-weather conditions
STELVIO D-air® D-Dry® XT motorcycle jacket with built-in airbag system offering all the comfort of a waterproof touring garment and the safety of the D-air® airbag developed by Dainese through 25 years of research and testing in the most extreme conditions. The Dainese D-air® airbag system, which doesn't require connection to the motorcycle, recognizes dangerous situations and is activated when needed to protect the rider. The airbag is inflated using microfilament technology placed over the back and chest.
The Pro-Armor 2.0 protectors on the shoulders and elbows, which are designed to offer maximum comfort in terms of lightness and flexibility, high levels of ventilation and EN 1621.1-certified level 2 protection, serve as an additional safety guarantee.

STELVIO D-AIR® D-DRY® XT is an EN 17092:2020-certified motorcycle jacket suitable for long-distance trips in any weather condition, due to its waterproof, breathable and four-way stretch D-Dry® XT membrane that guarantees exceptional protection against rain and atmospheric agents, while leaving maximum freedom of movement and comfort. The air vents with waterproof zipper closure present on both the front and back ensure breathability and cool air on hot days.

To ensure a perfect fit, the STELVIO D-AIR® D-DRY® XT jacket has an internal lumbar elastic band, for adjusting the fit at the waist, and further adjustments are possible using the buckles on the hips, the Velcro on the wrists and the snap buttons on the arms.

A termékkel kapcsolatos érdeklődés küldéséhez jelentkezz be vagy regisztrálj az oldalunkon!