DAINESE dzseki - ANTARTICA GORE-TEX JACKET EBONY/PERFORMANCEBLUE/ BLACK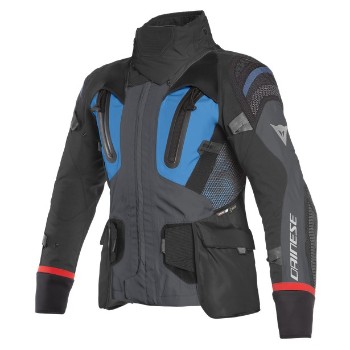 nagyítás

201593990
79E EBONY/PERFORMANCEBLUE/ BLACK
Méret/szín: 52
Szállítás: 1-2 munkanap
DAINESE dzseki
ANTARTICA GORE-TEX JACKET, 79E EBONY/PERFORMANCEBLUE/ BLACK 52
A waterproof touring jacket with laminated 45,000 mm GORE-TEX® membrane. The genuine goose down inner lining can be worn separately and is designed to withstand the harshest of extreme climates. Complete with certified protectors at the shoulders, elbows and back.
The GORE-TEX® Antartica jacket sets a new standard for motorcycle travel across the coldest lands on the planet. Designed to guarantee superlative thermal insulation, it is the perfect garment with which to tackle the most extreme experiences on two wheels. At any temperature.

Thanks to Dainese technology based on the study of lines of non-extension in the human body, used to guarantee comfort and lightness even to NASA astronauts during their trip to Mars, any challenge can be faced in total comfort and with no compromise in terms of performance.

The removable goose down inner layer allows the rider to travel safely even in the coldest climates and can be worn separately, for a constant feeling of warmth even when off the bike. The laminated 45,000 mm GORE-TEX® outer shell provides unparalleled weather protection and, in combination with the ventilation zipper on the chest in direct contact with the body, provides the right ventilation when it gets warmer. The external adjustable lumbar belt ensures a perfect fit and offers the possibility to make adjustments without opening the jacket.

The outer pockets are designed for easy access in the riding position without compromising the fit. The unique S.T.O.P.® (Side Time-Saver Outer Pockets) compartment allows the rider to quickly store gloves and small items during a break: an exclusive and all-important feature for true adventure lovers.

The Pro-Armor back protector and Level 2 certified shoulder and elbow protectors uphold the highest Dainese safety standards.

A termékkel kapcsolatos érdeklődés küldéséhez jelentkezz be vagy regisztrálj az oldalunkon!