DAINESE dzseki - D-EXPLORER 2 GORE-TEX® 80E EBONY/BLACK/LAVARED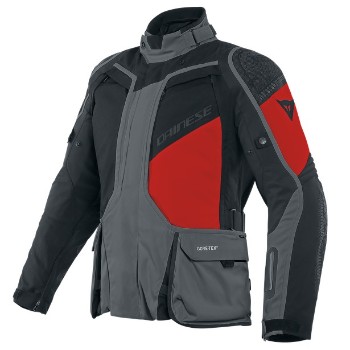 nagyítás

201593993
80E EBONY/BLACK/LAVARED
Méret,
készlet:
Méret/szín: 50
Szállítás: 1-2 munkanap
Méret/szín: 52
Szállítás: 1-2 munkanap
Méret/szín: 54
Szállítás: 1-2 munkanap
Méret/szín: 56
Szállítás: 1-2 munkanap
A készletjelzőknél válaszd ki a megfelelő méretet!
A fully waterproof, thermal and ventilated all-season jacket. The ultimate in Dainese adventure touring.
The evolution of an adventure touring icon. The properties of this genuine all-season jacket ensure it is completely waterproof, thermal, and well-ventilated depending on the chosen configuration and riding conditions.

The GORE-TEX® membrane and the 2-in-1 lightweight inner jacket make it the ideal choice in any season and on any route, with the guarantee of exceptional protection against any adverse weather conditions.

The inserts are in Trixior, the exclusive Dainese hyper stretch fabric that is both breathable and resistant to abrasion, providing additional protection and a fit that adapts perfectly to the rider. Level 2 approved elbow, shoulder and back protectors complete the garment and uphold the highest Dainese safety standards.

A termékkel kapcsolatos érdeklődés küldéséhez jelentkezz be vagy regisztrálj az oldalunkon!