DAINESE dzseki - D-EXPLORER GORE-TEX®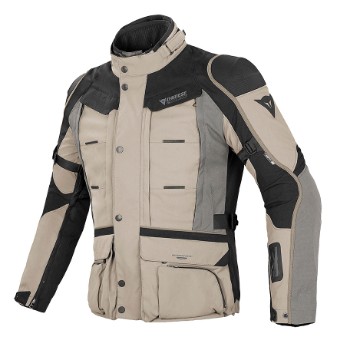 nagyítás
201593961
PEYOTE/BLACK/SIMPLE-TAUPE
Méret,
készlet:
Méret/szín: 48
Szállítás: 1-2 munkanap
Méret/szín: 50
Szállítás: 6-10 munkanap
Méret/szín: 58
Szállítás: 1-2 munkanap
A készletjelzőknél válaszd ki a megfelelő méretet!
This modular jacket in Gore-Tex® is the best in its category thanks to the innovative technical solutions and excellent materials used.
Made from resistant, elasticised Mugello and Quick Dry fabrics with elasticised strategically placed inserts. The numerous adjustments
mean that the jacket can adapt better to the wearer's body and offer superb freedom of movement. The D-Explorer comes with a
removable, breathable, waterproof Gore-Tex and with a removable thermal lining which, along with the "Dainese modular flap system"
on the chest and back, make this jacket perfect, whatever the weather. Furthermore this jacket has been designed to accommodate
the "Double Chest" chest protector, and a G1 or G2 back protector is included. Numerous inner and outer pockets complete this
versatile jacket. A "conformato" version is also available
GENERAL FEATURES
1 pocket on inner liner
1 pocket on left strip
1 pocket on thermal liner
1 pocket on waterproof liner
2 front outer pockets
2 rear pockets
2 waterproof front outer pockets
Pocket for documents on sleeve
Pocket for Double Chest protector
Reflective inserts
ERGONOMICS
Anti-floating sleeve adjustment
Drawstring adjustable jacket
bottom
Elasticated inserts
Gaiter on sleeve bottom
Jacket-pants fastening system
Neck adjustment
Waist adjustment
Wrists adjustment
MAIN MATERIALS
Duratex fabric
Mesh fabric
Mugello fabric
QuickDry fabric
PERFORMANCE SHOCK
Back protector Wave G2 certified
to CE - Cat. II - EN 1621.2 included
Removable composite protectors
certified to EN 1621.1 Standard
Thermoformed shoulders covered
in D-Stone™ fabric
TEMPERATURE
Air vents on sleeves
Dainese modular flap system on
chest and back
External fabric with waterresistance
treatment
Liner in breathable and perforated
Sanitized® fabric
Removable liner with breathable
waterproof GORE-TEX® membrane
Removable thermal liner

A termékkel kapcsolatos érdeklődés küldéséhez jelentkezz be vagy regisztrálj az oldalunkon!