DAINESE dzseki - GRAN TURISMO GORE-TEX JACKET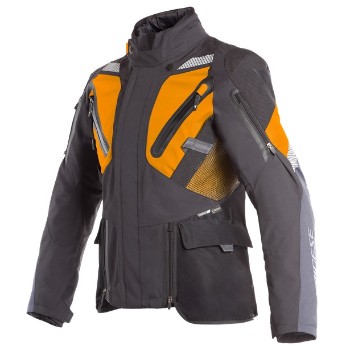 nagyítás

201593987
Méret,
készlet:
Méret/szín: 50
Szállítás: 1-2 munkanap
Méret/szín: 54
Szállítás: 1-2 munkanap
Méret/szín: 60
Szállítás: 1-2 munkanap
A készletjelzőknél válaszd ki a megfelelő színt és méretet!
Kedvezményes ár:
311 100 Ft

The Gran Turismo GORE-TEX® Jacket is the finest road touring garment born from the same Dainese technology used to keep the NASA astronauts light and comfortable during their journey to Mars. Thanks to the study of the lines of non-extension in the human body, this jacket offers the maximum comfort, safety and practicality for long-range journeys, in every climate conditions. The laminated GORE-TEX® 45.000mm shell is an unequalled protection against bad weather and, combined with the direct-to-the-body vent zip on chest, provide the perfect ventilation when it's warmer. The removable thermal fleece allows confident rides in the cold climates and it is wearable separately, to keep the body warm also off the bike. Nylon 6.6 high abrasion resistant fabric, Armacor® with inserts in aramid fiber on critical impact areas and Pro-Armor level 2 back protector guarantee the Dainese highest safety standards, the result of over four decades of development and innovations. The exclusive outer adjustable lumbar belt, pockets designed to be easily used in riding position without compromising the comfort and the new S.T.O.P.® (Side Time-Saver Outer Pockets) compartment to place rapidly gloves and small stuffs during a stopover are additional features that complete the excellence of the Gran Turismo, making it the perfect jacket for every all-weather road exploration. Because we know that the best journey is the one that doesn't end. Roads are never enough.



A termékkel kapcsolatos érdeklődés küldéséhez jelentkezz be vagy regisztrálj az oldalunkon!