DAINESE gerincvédő - PRO-ARMOR BACK SHORT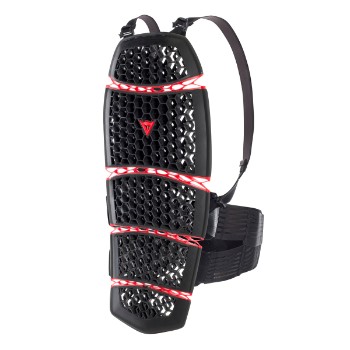 nagyítás

201876157
Méret,
készlet:
Méret/szín: S/M
Szállítás: 1-2 munkanap
Méret/szín: L/2X
Szállítás: 1-2 munkanap
A készletjelzőknél válaszd ki a megfelelő színt és méretet!
The PRO_ARMOR BACK LONG stands out for its design and cutting-edge technology. This Dainese back protector bends and stretches both longitudinally and latitudinally and is held in position with removable straps and a removable, adjustable lumbar band. Created in carbon elastomer and expanded nitrile rubber, the back protector includes 4 thermoplastic bearings and allows the rider 5 different levels of movement for unparalleled comfort. The dynamic thickness and anatomic advantages of its construction perfectly integrate with the safety features of this Level 2 EN 1621.2 certified back protector.
ERGONOMICS
4 bearings with 5 degrees of
movement
Anatomical shape on both
directions
Dynamic thickness
Lateral bending
Longitudinal stretch & bending
Removable and adjustable lumbar
band
Removable straps
Rotational stretch
MAIN MATERIALS
Carbon Elastomer
Expanded nitrile rubber
Thermoplastic bearings
PERFORMANCE SHOCK
Back protector certified to CE
- Cat. II - EN 1621.2/2014 lev. 2
Standard
Functional Pattern
TEMPERATURE
Perforated structure

A termékkel kapcsolatos érdeklődés küldéséhez jelentkezz be vagy regisztrálj az oldalunkon!