DAINESE kesztyű - CARBON 4 LONG LADY LEATHER GLOVES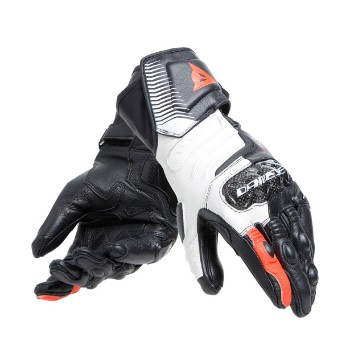 nagyítás

202815957
N32 BLACK/WHITE/FLUORED
Méret,
készlet:
Méret/szín: M
Szállítás: 1-2 munkanap
Méret/szín: L
Szállítás: 1-2 munkanap
Méret/szín: XL
Szállítás: 1-2 munkanap
A készletjelzőknél válaszd ki a megfelelő méretet!
Long women's sport motorcycle gloves in sheep leather with carbon knuckle protectors.
The Dainese Carbon 4 Long women's motorcycle gloves are certified gloves that guarantee the highest levels of protection yet are designed for women.

With their use of competition-inspired technical materials, such as their goatskin construction and ergonomic carbon knuckle protectors, they are an example of Dainese's highest safety standards. They are equipped with DCP system to protect the little finger, a reinforced sleeve, and finger seams on the inside for maximum strength and comfort.
CARBON COMPOSITE FIBER

​

This composite material is made of woven carbon filaments immersed in resin and then solidified to create an extremely lightweight fiber that also boasts great structural rigidity.
ELASTICATED INSERTS

​

Elasticated inserts positioned in the most strategic locations that improve the garment's capacity for adaptation to the body as it changes shape and moves while riding.
DISTORTION CONTROL

​

Distortion Control is a technology developed for top racing riders. The thermoplastic polyurethane insert positioned at the base of the little finger prevents extra-rotation of the finger itself, reducing the risk of unnaturally twisting it in the event of a fall.
TIGHTENING STRAP

​

This strap, placed on the glove's cuff, prevents the glove from coming off even partially during a fall, while also keeping the rigid inserts in their correct position in every situation.

A termékkel kapcsolatos érdeklődés küldéséhez jelentkezz be vagy regisztrálj az oldalunkon!