DAINESE kesztyű - FULL METAL 6 REPLICA GLOVES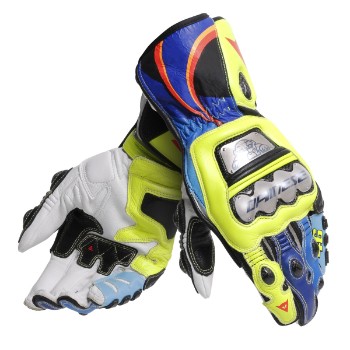 nagyítás
Méret/szín: XL
Szállítás: 1-2 munkanap
DAINESE kesztyű
FULL METAL 6 REPLICA GLOVES, XL
WEBES RENDELÉS ESETÉN ELŐZETES TELEFONOS EGYEZTETÉS SZÜKSÉGES!
The improved comfort and outstanding protection of our top racing gloves in Valentino Rossi's MotoGP 2017 colors. Packed with
innovations and advanced technologies. Quad elastication for increased mobility between the knuckles and the back of the hand.
Preformed and precurved cuffs with a new inner closure for outstanding fit, wrist mobility and comfort. Carbon fiber and titanium
inserts with Aramid fiber panels for superlight strength and protection. Beyond compromise. Here's the track glove to grasp victory,
Rossi style.
GENERAL FEATURES
Cover on the tightening strap
Elasticated cuff inserts
Soft inserts
ERGONOMICS
Adjustable cuff strap
Elasticated inserts
Micro-injection reinforcement
Microelastic elasticated inserts
Palm Super Touch in goatskin
Pre-curved fingers
Precurved wrist
Tightening strap
MAIN MATERIALS
Aramid fiber stitching
Drum-dyed goatskin leather super
soft palm
Goatskin Leather
Internal reinforcements with
aramid fiber jersey
PERFORMANCE SHOCK
Carbon fiber inserts at the joints
of the fingers and the head of the
ulna bone
Composite inserts in carbon fiber
and titanium on the knuckles and
back
DCP system on little finger
External thermoplastic resin inserts
on side of little finger
Gloves certified to CE - Cat. II - Pr-
EN 13594 Standard lev. 1
One single leather panel to the
side of the hand
Polyurethane insert on the palm
Quadruple elastication between
knuckles and back of the hand
Reinforced leather palm
Reinforced preformed cuff
construction

A termékkel kapcsolatos érdeklődés küldéséhez jelentkezz be vagy regisztrálj az oldalunkon!