DAINESE kesztyű - KARAKUM ERGO-TEK GLOVES BLACK/BLACK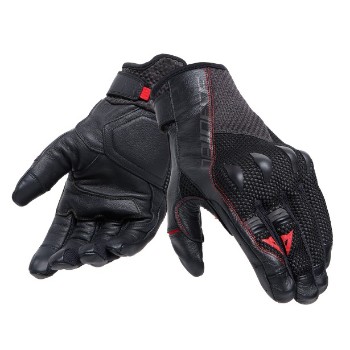 nagyítás
201815968
631 BLACK/BLACK
Méret,
készlet:
Méret/szín: S
Szállítás: 1-2 munkanap
Méret/szín: M
Szállítás: 1-2 munkanap
Méret/szín: XL
Szállítás: 1-2 munkanap
A készletjelzőknél válaszd ki a megfelelő méretet!
Summer adventure gloves in ventilated stretch fabric with goatskin palm and Ergo-Tek protectors on knuckles.
Karakum Ergo-Tek are summer adventure gloves, light and ventilated, ready for any adventure in the hottest climates. Made with ventilated, knitted, stretch fabric and with a goatskin palm, they offer softness and resistance where you need it, ensuring great sensitivity and control over the bike controls. The Ergo-Tek protectors on the knuckles, Dainese technology developed by studying the anatomy and dynamics of hand movement in motorcycle riding, offer great mobility and safety, covering the areas most subject to impacts and abrasions. Comfort is guaranteed by the ventilation and lightness of the glove, allowing extended use, and by the practical fit, due to the tear-off cuff closure.
ERGO-TEK KNUCKLE INSERTS
​
These newly conceived Dainese Ergotek knuckle inserts are the ultimate expression of ergonomics and protection. Made by combining polyurethane and metal inserts, they allow the fingers to move separately without affecting the rider's safety. Such innovative technology applied to gloves for everyday road use is the result of studies carried out in the racing sector, and represents a new benchmark in terms of riding comfort.

A termékkel kapcsolatos érdeklődés küldéséhez jelentkezz be vagy regisztrálj az oldalunkon!