DAINESE kesztyű - VR46 SECTOR SHORT GLOVES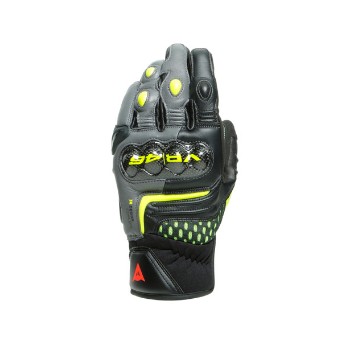 nagyítás

201815948
Méret,
készlet:
Méret/szín: S
Szállítás: 1-2 munkanap
Méret/szín: M
Szállítás: 6-10 munkanap
Méret/szín: L
Szállítás: 6-10 munkanap
Méret/szín: XL
Szállítás: 6-10 munkanap
A készletjelzőknél válaszd ki a megfelelő színt és méretet!
Short leather sports gloves inspired by the iconic style of Valentino Rossi, featuring carbon knuckle protectors and ventilated mesh inserts.
Superior performance with legendary style.
The VR46 SECTOR SHORT sports gloves feature integrated technological solutions designed for the competitive riding world, allowing you to take on any challenge in safety and confidence. Even on hot days.
Carbon fiber knuckle plates and an exclusive DCP protective system on the little finger - the most delicate part of the hand and the most susceptible to injury in the event of impact - ensure superior Dainese safety standards. Mesh inserts on the top and perforated detailing on the inner fingers ensure optimal ventilation even during the summer months.
Ultra-soft Amica Suede leather palms with goatskin inserts guarantee superior comfort and high sensitivity on the handlebars for perfect control every time. Just like the Doctor.

A termékkel kapcsolatos érdeklődés küldéséhez jelentkezz be vagy regisztrálj az oldalunkon!