DAINESE motoros cipő - AURORA LADY D-WP BOOTS 631 BLACK/BLACK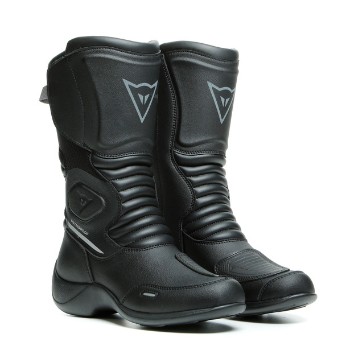 nagyítás

202795230
631 BLACK/BLACK
Méret,
készlet:
Méret/szín: 37
Szállítás: 6-10 munkanap
Méret/szín: 38
Szállítás: 6-10 munkanap
Méret/szín: 39
Szállítás: 6-10 munkanap
A készletjelzőknél válaszd ki a megfelelő méretet!
Women's road touring boots with D-WP® waterproof membrane and ankle protection. Perfect for long-distance rides whatever the weather.
Distinctive character to face infinite travel, year round. This boot was designed to meet the needs of riders who want to tackle long trips even when the weather conditions are adverse, offering recognizable style and the highest Dainese protection standards. The exclusive D-WP® membrane guarantees a dry fit even during the heaviest rain. The ankle protectors and the front reinforcement structure guarantee optimal safety, while the front and rear joints ensure a high degree of comfort so the rider can travel every mile in the saddle with confidence and freedom.

A termékkel kapcsolatos érdeklődés küldéséhez jelentkezz be vagy regisztrálj az oldalunkon!