DAINESE zokni - THERMO MID SOCKS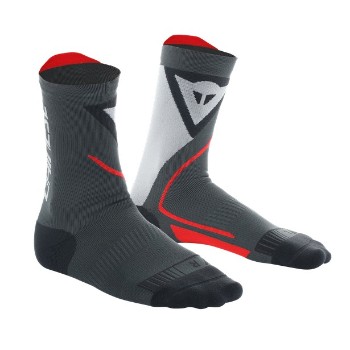 nagyítás

201996274
606 BLACK/RED
Méret,
készlet:
Méret/szín: 36-38
Szállítás: 1-2 munkanap
Méret/szín: 39-41
Szállítás: 1-2 munkanap
Méret/szín: 42-44
Szállítás: 1-2 munkanap
Méret/szín: 45-47
Szállítás: 1-2 munkanap
A készletjelzőknél válaszd ki a megfelelő méretet!
Medium socks made of thermal material, perfect for low temperatures.
Thermo Mid Socks are the mid-length version of Dainese Thermo insulating socks, designed to ensure ergonomics and appropriate thermoregulation in colder climates.

The Dryarn hydrophobic and insulating fabric allows Thermo Socks to optimize the process of managing body heat.
DRYARN®

​

Dryarn® is a high-performance fiber. Its yarn allows to design garments that are practical and comfortable to wear. Among all, Dryarn® major characteristics are that it is lightweight, insulating, and breathable.
YOUR SKIN'S THERMOSTAT

​

Dryarn provides excellent insulation. This is because it has the lowest thermal conductivity of any fibre thereby providing the best insulation against the outside environment. Dryarn creates a breathing barrier which insulates from the outside world and carries sweat from the inside out. An insulating, protective barrier which also breathes to ensure that the skin stays dry; warm in winter and cool in summer.

A termékkel kapcsolatos érdeklődés küldéséhez jelentkezz be vagy regisztrálj az oldalunkon!